Presbyopia is the inability to focus on close objects and usually requires bifocals or reading glasses. You can go on hassling with these types of eyewear after surgery — or you can gain independence from glasses when you receive PanOptix® premium IOL implants. You'll be able to switch between reading up close and seeing the TV with little difficulty, and without having to put on glasses.
Multifocal (also known as accommodative) IOLs reduce the likelihood that you will be required to wear glasses or contacts after surgery. Multifocal lenses incorporate both distance and near powered lenses into one lens. The lower power zones bend light coming from distance objects to a single focal point on the retina. The higher power zones bend light from near objects to the same focal point on the retina. Thus, different zones of lens power work together to provide the eye with near and distance vision.
Acrysof® IQ PanOptix® Trifocal IOL Implants
Advances in IOL (intraocular lens) implants have given cataract surgery patients more options after surgery. Life after cataract surgery used to always require glasses since lenses only gave patients good distance vision. Now, new options for better vision after cataract surgery have been created including the AcrySof® IQ PanOptix® IOL.
The AcrySof® IQ PanOptix® IOL is a unique lens that provides patients with quality vision including near, far and intermediate distances. Many patients who have had this lens implant do not need to rely on their glasses or bifocals after cataract surgery.  The AcrySof® IQ PanOptix® IOL is the first and only trifocal lens in the United States.
How does the AcrySof® IQ PanOptix® Trifocal IOL work?
As we age our eyes lose their ability to change focus and adjust from viewing something far away, like driving, to something up close, like reading a newspaper. This ability to focus is called accommodation. The AcrySof® IQ PanOptix® IOL has the ability to help patients see both near and far without depending on reading glasses.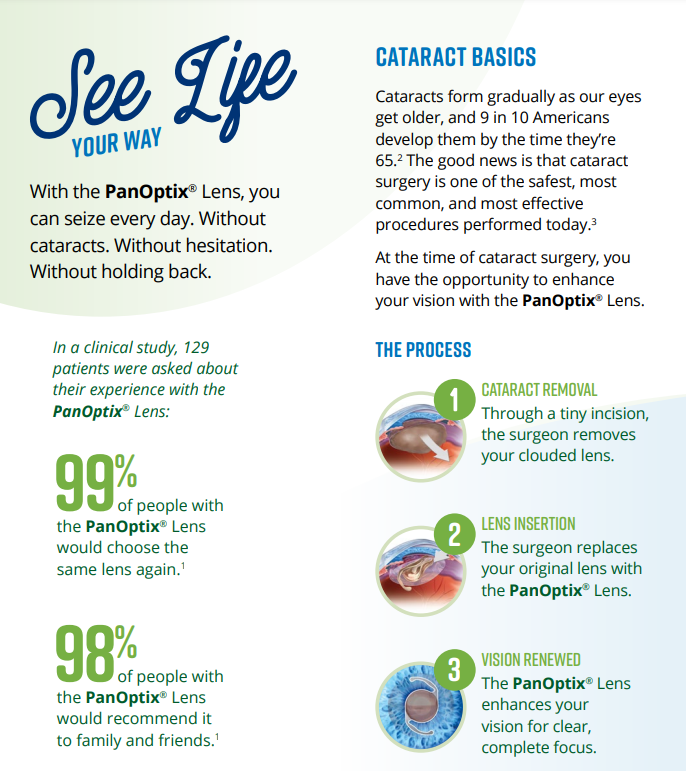 Is the AcrySof® IQ PanOptix® Trifocal IOL lens right for me?
If you are a cataract patient who will have to rely on reading glasses or bifocals after your cataract surgery, you may be a candidate for the AcrySof® IQ PanOptix® IOL. It is important that you speak with your surgeon or a member of our Cataract Surgery Team to determine your vision expectations after cataract surgery.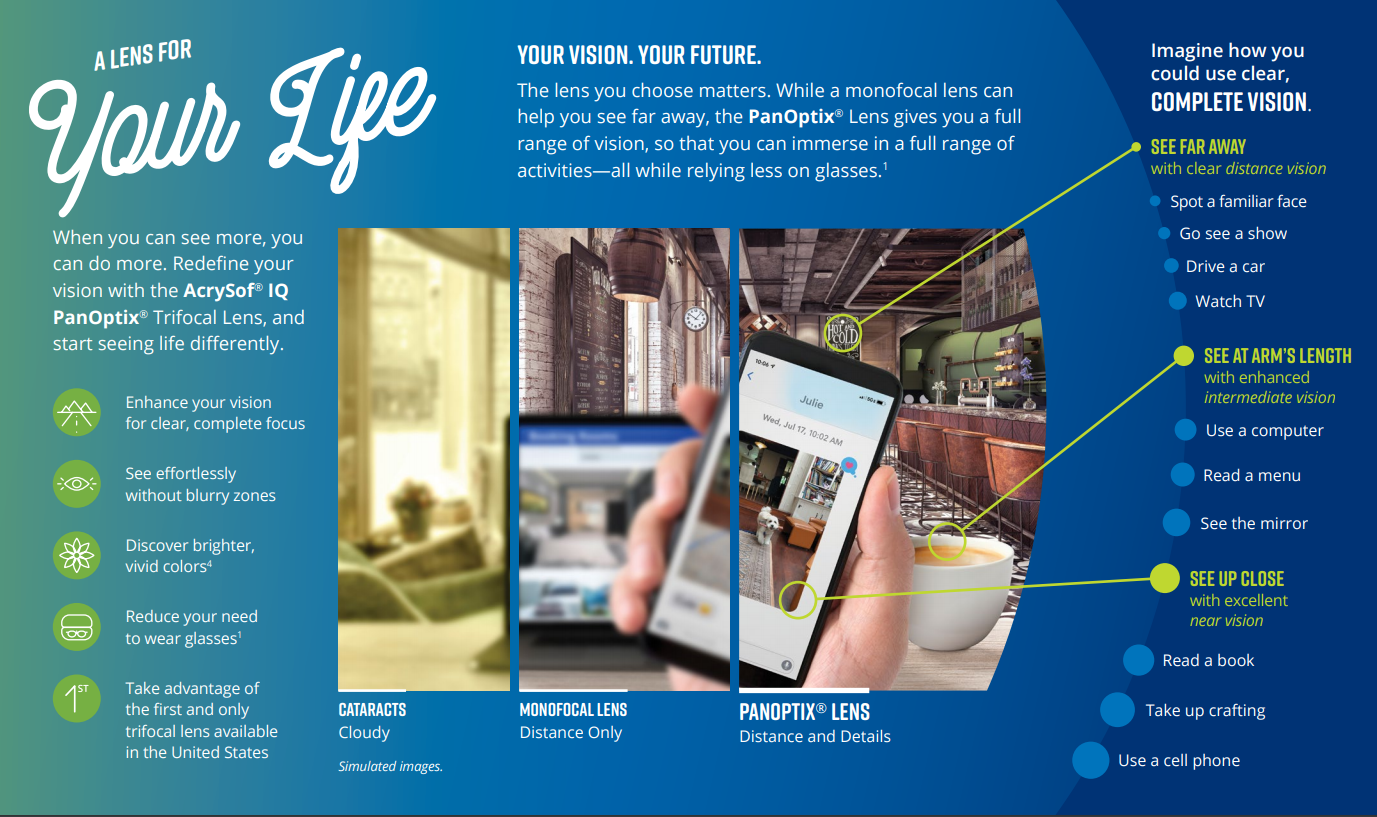 Vision Plans and Insurance
Our insurance specialists will work with you to discuss your coverage and payment options. For example most Medicare supplemental insurance and private insurance policies cover cataract surgery, but there is an additional fee for premium IOL implants and LCS.