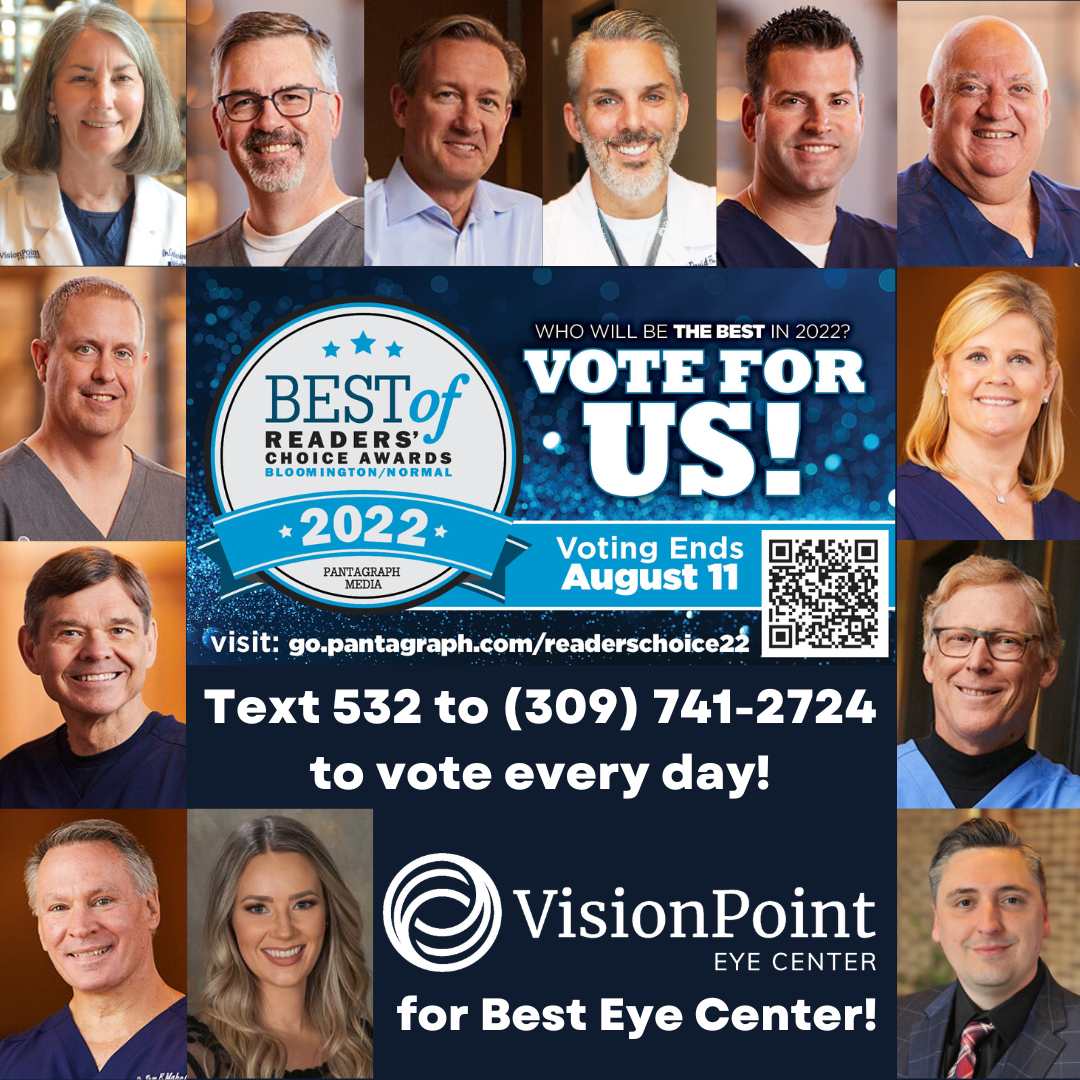 You helped us make the top 5 – now it's time to VOTE! 𝗧𝗲𝘅𝘁 𝟱𝟯𝟮 𝘁𝗼 (𝟯𝟬𝟵) 𝟳𝟰𝟭-𝟮𝟳𝟮𝟰 𝑎𝑛𝑑 visit https://bit.ly/3cICuGI daily! You may vote once per day per category via text 𝑎𝑛𝑑 website until August 11. Don't forget to also vote for your favorite eye doctor, too!  Vote for 1107 Optique as your favorite optical boutique below. Thank you for helping us win the #1 spots again! We appreciate your votes!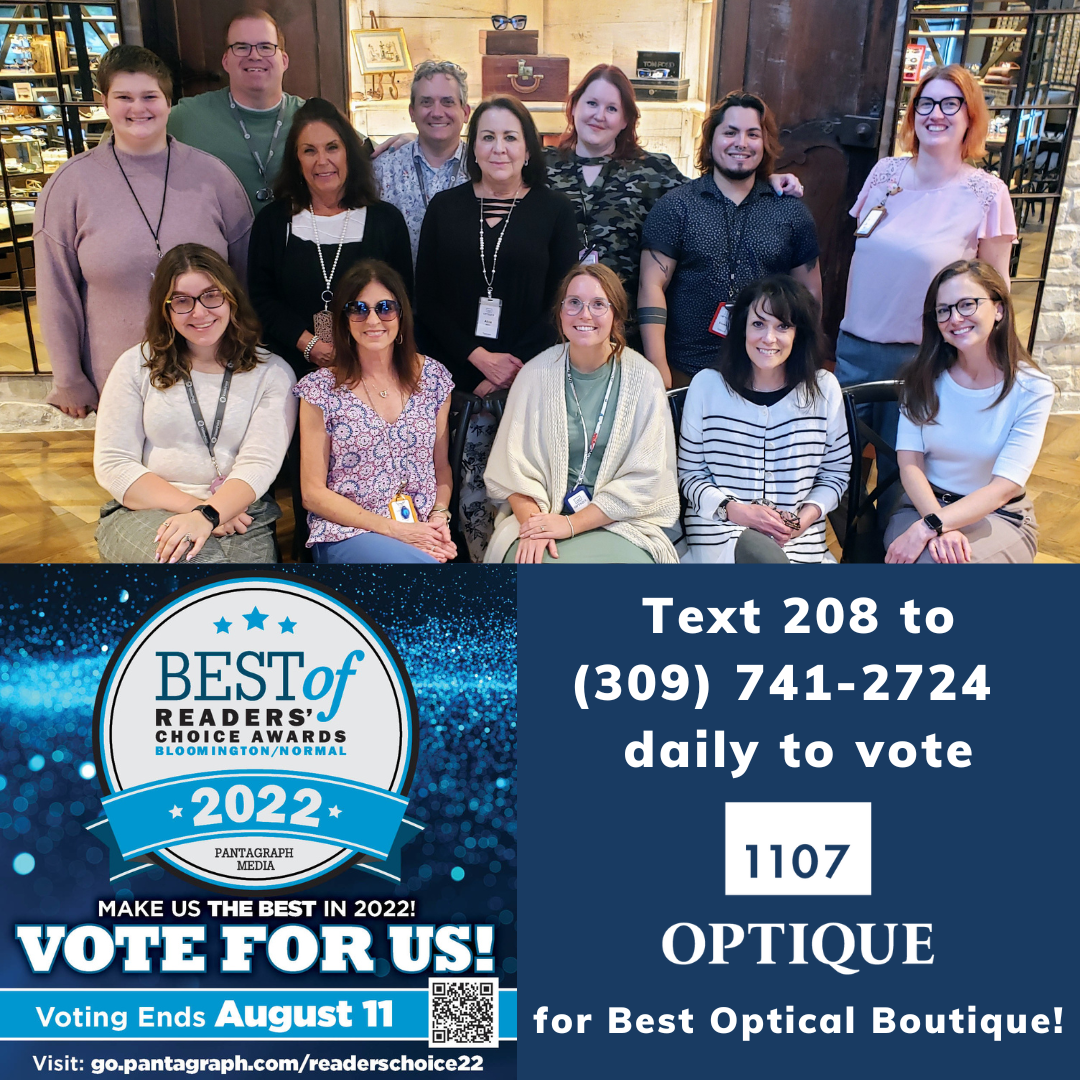 𝑇ℎ𝑎𝑛𝑘 𝑦𝑜𝑢 𝑓𝑜𝑟 𝑝𝑢𝑡𝑡𝑖𝑛𝑔 1107 𝑂𝑝𝑡𝑖𝑞𝑢𝑒 𝑖𝑛𝑡𝑜 𝑡ℎ𝑒 𝑓𝑖𝑛𝑎𝑙𝑠! 𝗧𝗲𝘅𝘁 𝟮𝟬𝟴 𝘁𝗼 (𝟯𝟬𝟵) 𝟳𝟰𝟭-𝟮𝟳𝟮𝟰 𝑎𝑛𝑑 visit https://bit.ly/3PVBM7p daily!  We appreciate your votes!
Celebrate our 𝟯𝗿𝗱 𝗔𝗻𝗻𝗶𝘃𝗲𝗿𝘀𝗮𝗿𝘆 with us! We are taking 𝟮𝟬% 𝗼𝗳𝗳 all prescription eyewear (frames and lenses) and non-prescription sunglasses through the entire month of August! 𝑆𝑜𝑚𝑒 𝑒𝑥𝑐𝑙𝑢𝑠𝑖𝑜𝑛𝑠 𝑎𝑝𝑝𝑙𝑦. 𝑇ℎ𝑖𝑠 𝑜𝑓𝑓𝑒𝑟 𝑐𝑎𝑛 𝑛𝑜𝑡 𝑏𝑒 𝑐𝑜𝑚𝑏𝑖𝑛𝑒𝑑 𝑤𝑖𝑡ℎ 𝑖𝑛𝑠𝑢𝑟𝑎𝑛𝑐𝑒 𝑜𝑟 𝑎𝑛𝑦 𝑜𝑡ℎ𝑒𝑟 𝑜𝑓𝑓𝑒𝑟𝑠. 
Special Discount for our Heroes!
Because you serve us, VisionPoint Eye Center is here to serve you! Now through the end of 2022*, doctors, nurses, first responders, current military, and veterans can save $1,000 off your bilateral LASIK procedure!
We recognize your importance to our community and we want you to have the best eyesight for the lifesaving work you do. It's our way of saying thank you for your dedication!
Don't see your profession listed above? Contact us to determine if you qualify.
*You must have your free LASIK screening before November 11, 2022. Cannot be combined with any other discounts.