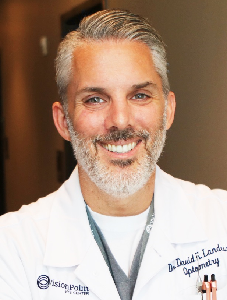 Eye Doctor in Bloomington, IL
Dr. Landess is originally from Quincy, IL. He graduated Magna Cum Laude with a degree in Pre-Medicine from Illinois State University and received his Doctor of Optometry with Magna Cum Laude honors from Southern College of Optometry. He completed an externship rotation at Southern Eye Surgical Associates in Memphis, TN.
While earning his doctorate, Dr. Landess received various recognitions including Clinician-of-the-Year Award and the Lippencott-Raven Award for clinical excellence. He is Board Certified by the American Board of Optometry with an emphasis in diseases of the anterior and posterior segment of the eye and he currently serves as Regional Society President for the Illinois Optometric Association. He has received extensive training in the co-management of refractive surgery, cataract and glaucoma.
Dr. Landess most enjoys integrating the latest technology to protect and better his patients' vision.  He has a special interest in treating chronic dry eye disease and is experienced in the management of glaucoma.
In his free time, Dr. Landess enjoys taking long walks with his wife, and spending time with his 4 grown children.  Having studied jazz and classical piano performance at Wheaton Conservatory of Music before ISU, he also has a passion for music. He has been actively involved with the worship team at Eastview Christian Church.