Treatments for Dry Eye Disease
Intense Pulsed Light (IPL) Treatment for Dry Eyes
VisionPoint Eye Center is pleased to offer a new treatment for patients suffering from chronic dry eye disease and facial Rosacea.  Based on your eye health history, Intense Pulsed Light treatment (IPL) may be an option to relieve your symptoms.
IPL treatment for dry eye utilizes gentle pulses of light to liquefy and release hardened oils that have clogged meibomian glands in the eyelids. IPL also treats vascularization and inflammation of the eyelids, reducing eyelid redness and stimulating healthy gland function.
In addition to effectively treating the underlying causes of chronic dry eye, there are also many cosmetic benefits for the facial skin. IPL Photofacial treatments consistently and predictably improve the texture, tone and color of the skin with little to no down time. IPL also stimulates the growth of collagen, decreases pore size and gives skin a youthful appearance.  IPL is the use of intense pulses of non-coherent light distributed over a range of wavelengths; from 500 nm to 1200nm.  If you are interested in learning more about this treatment contact us or call 309.662.7700.
iLux
The iLux Thermal Pulsation system is FDA approved and works by using localized heat and compression therapy.  The device is positioned on the eyelids and light-based heat is applied to melt the meibum.  Then, lid compression is used to express the unhealthy meibum and unblock the glands.  The treatment process lasts approximately 8-12 minutes per eye and is completed in one office visit.  Patients describe the treatment as a "warm eye massage".
OPTASE® Dry Eye Kit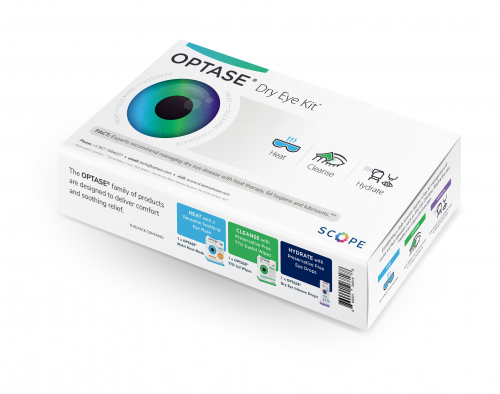 VisionPoint Eye Center Doctors recommend a three-part treatment to improve eye health in patients with dry eye and other ocular surface disease.
The OPTASE® Moist Heat Mask is a reusable mask that can be used to heat the oil glands in the eyelids to help release the eyelids natural oils and spread them across the surface of the eye.  The Moist Heat Mask features HydroBead technology, which absorbs moisture from the air and releases a natural, constant moist heat.  No added water needed.  Microwave the mask for 25 seconds on full power.  Always touch with fingers first to test the temperature before applying to closed eyes.  Use heat mask for 10 minutes and massage eye lids.
The OPTASE® Tea Tree Oil Lid Wipes can be used to cleanse the eyelids and remove any stubborn scurf or debris.  Remove the wipe from sachet and wrap over clean finger.  Close eye and wipe gently and thoroughly across the eyelid and lashes several times in a side to side motion.  Use a fresh wipe to repeat the process for the other eye.
Lastly, the OPTASE® Dry Eye INTENSE Drops will hydrate the eye.  Put one or two drops into the affected eyes as needed to moisturize and sooth dry, irritated eyes.  Preservative free and ideal for daily use.  After use, shake the bottle downwards in order to remove any residual drop that may be left before replacing the cap.
For your convenience, VisionPoint offers the OPTASE® Dry Eye Kit that includes an OPTASE® Moist Heat Mask, (20) OPTASE® Eye lid Cleansing Wipes for daily eye hygiene, and OPTASE® Dry Eye INTENSE Drops for hydration for $60.