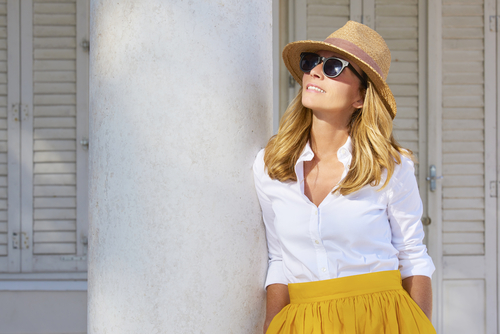 Are you starting to notice halos around lights? Does your vision seem blurry or cloudy? These are common signs that you might have cataracts.
Cataracts affect your life in many ways. People associate cataracts with old age but there's more to it than that.  Cataracts can occur at any age – even at birth!  Keep reading to learn more about cataracts and the natural aging process of the lenses in your eyes.
What are Cataracts?
Cataracts develop when the natural lens in your eye goes from clear to foggy. Patients may compare having cataracts to looking at the world through a dirty window.
Having cataracts makes certain activities challenging, like driving at night.  Part of the reason why driving at night is harder is that cataracts may cause halos around lights. Also, having cataracts makes it hard to see details. For example, sewing, seeing facial expressions, or reading can become difficult.
Are Cataracts a Common Occurrence?
As we age, most of our peers will get and are diagnosed with cataracts. Around age 40, cataracts become a very common eye diagnosis.
About 26 million people have them.  Even if you know you have a cataract, you usually don't need cataract surgery right away. There is no reason to rush into cataract surgery.
Early on, cataracts are small and will not majorly impact your vision. At this stage, most minor vision issues can be solved with a new eyeglasses prescription.  Your eye doctor may recommend getting a bifocal (or progressive lenses) so you can see better up close.  Those who don't usually wear glasses or contacts may need to start wearing reading glasses for near vision.
As your cataracts age, they grow and affect your vision more. It is important to think about your quality of life when this happens. If you cannot do the things you usually do, it may be time for a dilated eye exam with your eye doctor to discuss your options.
Can You Get Cataracts Before Age 40?
Yes, you can. When patients under 40 develop cataracts, they are called early-onset cataracts. You can develop early-onset cataracts if you have a pre-existing condition like diabetes, hypertension, or eczema.
Also, using steroids, having a history of eye injuries or medical history with early-onset cataracts can cause cataracts to develop.
Although it is uncommon, newborns can develop cataracts as well.  These are called congenital cataracts.  Usually, newborns develop cataracts because of a genetic condition.
It is also possible for newborns to develop cataracts if their mother has developed certain diseases while they were pregnant. For example, if a mother was diagnosed with measles while pregnant, it increased the chances that the child developed cataracts.
For children, eye injuries are the main reason cataracts develop at a young age. This is why eye safety is so important!
Patients can develop cataracts at any age.  Cataracts are unavoidable but staying healthy and protecting your eyes are some of the best ways to you can be pro-active against getting cataracts at a younger age.
Cataracts can affect your life. If you or a loved one cannot enjoy life to its fullest due to cataracts, you may want to talk to your eye doctor about cataract surgery. There are many options for those who want to live an active life and have restored vision again.
Do you think that you have cataracts? The only way to know for sure is to have a dilated eye exam. Schedule an exam at VisionPoint Eye Center in Bloomington, Illinois today!