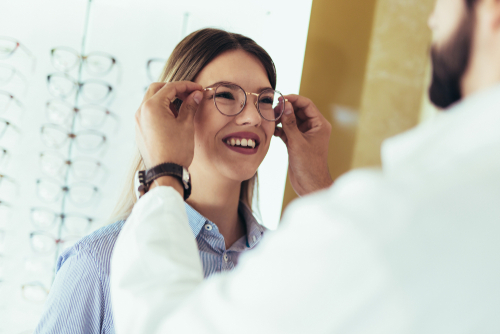 How many times have you been unpleasantly surprised by an online purchase?  If you're like me, you have a pile of things around that either didn't fit properly, had lower quality than you were expecting, or was just junk. Taking the risk with your vision is a little different. Buying your glasses online may seem convenient, but there are plenty of reasons why purchasing a new pair in person is better. 1107 Optique opticians are professional eye wear fitters that give you the best chance to have your best vision using the latest technology in lenses and the latest in fashion options. We ensure your glasses fit well, correct your vision the way they're supposed to, and meet your unique needs and personal style. Keep reading to learn more about why you shouldn't order your glasses online!
1. Accurate Measurements
One of the major problems with purchasing your glasses online is that you do not have a professional with you to make sure your measurements are accurate. Wearing the wrong prescription glasses can lead to problems such as blurred vision, dizziness, and headaches. You can be confident that you will receive the correct lenses when you purchase your glasses from 1107 Optique at VisionPoint Eye Center.
At 1107 Optique, your personal and dedicated optician will ensure that your prescription is current for crisp, clear vision and maximum comfort. Also, unlike purchasing your glasses in-store, ordering glasses online can cause issues like eye fatigue and headaches if the pupillary distance (PD) and optical center (OC) measurements aren't accurate.
The PD measurement is the distance between the centers of your pupils. It determines where you look through your lens. It should be as precise as possible. 
The OC measurement is the precise location your eyes sit in relationship to the frame. In some prescriptions, this can make a difference to the quality of your vision. It should be as precise as possible.
When you order glasses from a professional optical boutique, like 1107 Optique, the opticians will ensure that the correct PD and OC are placed in your new glasses. This means that the center of your lenses will line up precisely over the center of your pupils. 
When these measurements match up with the frame you've selected, your prescription will be effective, and you'll avoid eyestrain and frequent headaches.
2. Expert Advice
Many decisions are involved when purchasing eye wear. An optician can help you select the best pair for you when you buy your glasses in person instead of online.
Opticians undergo rigorous training and are licensed to perform their job. That means an optician understands the ins and outs of lenses including the best options for your prescription, as well as frames including frame design, colors, and taking your face shape into account.
There are some frame style limitations, depending on your prescription, which many do not realize when they are purchasing glasses online. Your 1107 Optique optical professional can guide you through your various options and explain what each feature will do for you. In other words, an optician will make finding the right pair of glasses a breeze. 
You can be sure that you'll go home with the perfect pair.
3. You Can Test the Fitting
Your face is uniquely shaped, and your fashion sense is yours alone. Different frame shapes can better suit different face types, but with over 2,000 frames in stock, we can help you find your perfect pair. Ordering your glasses online increases your chances of buying frames that don't fit your face correctly.  You may find your new pair is uncomfortable or too large.
Our 1107 Optique opticians will offer honest feedback on the frame style you've chosen and even suggest alternatives that will still fit with your face shape. lens type, and design sense.
Moreover, glasses bought online might not look as good as you expected. Often, this is because digitally applying frames on an uploaded photo of your face doesn't provide an accurate picture of how the glasses will fit you in real life. 
A virtual try-on feature also can't demonstrate the detailing of the frame or tell you how the frames will feel. On the other hand, you'll get to try glasses in person when you buy from an eye wear boutique. 
You'll see the workmanship of the frame and sample various frame sizes before making your final choice. That way, you can avoid the hassle of having to exchange or return your glasses if you're not happy with them.
The opticians at 1107 Optique will make sure your glasses work and fit when you come to pick them up. You will look at all focal points to make sure you can see and that they are comfortable on you. It's also a relief to know you are able to return for regular adjustments or if you happen to notice something is off. Opticians are able to tweak and adjust your glasses, if needed.
Get the Perfect Pair At 1107 Optique
The experienced opticians at 1107 Optique at VisionPoint Eye Center will help you choose your lenses and frames for your perfect pair of glasses. With more than 2,000 frames to choose from, these opticians are the true experts at matching you to your perfect lenses and frames. They'll ensure your prescription is up-to-date so that you can continue enjoying clear, comfortable vision. There are so many advantages of selecting and trying on your glasses in person, especially with the pros, rather than purchasing them online. 
Are you looking to buy glasses? Contact 1107 Optique at VisionPoint Eye Center in Bloomington, IL, to get a pair (or pairs) you'll absolutely love!