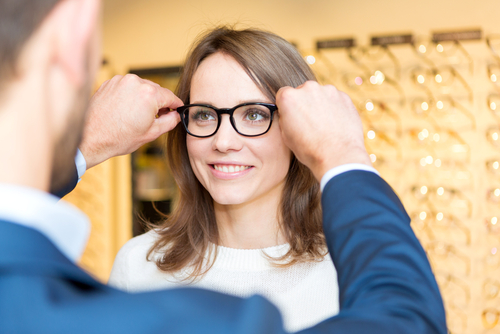 When shopping for new glasses, there are many things to consider before settling on a pair. You should evaluate a variety of factors such as comfort, cost, durability, the many lens options, and so much more. 
That will ensure you have functional glasses that feel and look great. However, with so many options, how can you make sure to select the most suitable glasses for you?
Here are a few things to keep in mind the next time you are looking for new glasses!
Prescription
Before anything else, it's crucial to have your latest prescription when buying glasses.  You want to be able to see clearly!  An old prescription can also give you eye fatigue and relentless headaches. 
You should see your eye doctor at VisionPoint Eye Center every year to ensure your eyes are healthy and your prescription is up to date.  (Here's your cue to schedule your annual eye exam if you haven't already this year!) 
Cost
You should have a clear idea of how much you're willing to spend on your new pair before you start to shop.   Also, make sure you understand your insurance coverage if you have a vision plan.
If you know that your budget is quite low but you still want a high quality pair of glasses, single vision glasses start at only $97 at 1107 Optique.  There are plenty of frames and lens options to fit any budget at 1107 Optique.      
 Once you know what you can afford, you may start looking at options at your price point. 
Face Shape
Your face shape often means that some eyeglasses will be better suited for you than others. That's why it's essential to know the shape of your face.  
You may have a heart-shaped, round, oval, rectangle, diamond, or square face. You can tell your face type by looking at yourself in the mirror with your hair pulled back. 
People with square-shaped and heart-shaped faces look great in round frames. Rectangular frames are excellent for those with round faces. And if you have an oval-shaped face, you'll look stunning in almost all frames.
Learning your face shape may guide you in choosing a frame, but it is not necessary to choose a frame based on your face shape. Thus, if you love a frame that might not be considered ideal for your face, choose it (as long as it works with your prescription.)   What you like best matters the most! 
Lots of Lens Options
The lenses are the most important part of your glasses.  You'll need lenses that match your lifestyle and visual needs and you'll have many options to enhance your new frames.
Transition Lenses
Transition lenses lighten in the dark and darken in the sunlight on their own. These lenses make it super convenient to move between outdoors and indoors and stay shaded from the sun. 
Most importantly, transition lenses block 100% of UVA and UVB rays and reduce painful glare, allowing you to safely see your best in any light condition with only one pair of glasses.
Polarized Lenses
(for sunglasses)
These types of lenses enhance contrast and cut glare, making them great for outdoor activities.  Polarized lenses combat glare and make colors appear bolder, deeper, and richer. 
Details are clearer and more distinct looking through these lenses.  If you've never tried on a pair of polarized lenses, you simply must stop by 1107 Optique to try on a pair.  Your eyes will thank you! 
High Definition
These lenses make your vision crisp and crystal clear, like you're looking through a highly pixilated camera.  If you are looking for exceptional clarity and more precise vision, you will definitely want to ask your optician if you are a candidate for high definition lenses. 
Anti-Scratch
This two-sided treatment goes on the front and backside of your lenses and helps protect against scratches.  If you are prone to dropping your glasses or are just hard on your glasses in general, this treatment is a must to help you protect your eyewear.   
Anti-Reflective
If you work a lot on your computer or glare bothers you at night while driving, anti-reflective coating can help reduce reflections and glare.  Think of a picture you've taken where all you can see is the glare on your glasses.  What a bummer! 
Anti-reflective coating also reduces the appearance of glare on your lenses, allowing others to see your eyes instead of that annoying light reflection.  Goodbye, glasses glare! 
Progressive Lenses
If you are between the ages of 40 – 45 (or older) you are probably aware that your near vision needs more help than it used to.  This is due to Presbyopia, the natural aging process of the eyes that makes it hard to focus on things up close. 
Luckily, progressive lenses can help you see objects clearly at virtually any distance.  If you are new to progressive lenses, your optician can give you some helpful tips on how to get used to wearing them.
Improve Your Visual Experience with Custom Eyeglasses
At 1107 Optique at VisionPoint Eye Center, you will find sensational glasses and sunglasses that can be customized to your specific vision needs and preferences.  With more than 2,000 frames to choose from, our friendly and expert opticians will help match you with the frames and lenses to fit your visual needs, lifestyle, and fashion sense.
Are you looking to buy new glasses? Schedule an appointment with the experts at 1107 Optique at VisionPoint Eye Center in Bloomington, IL, today!