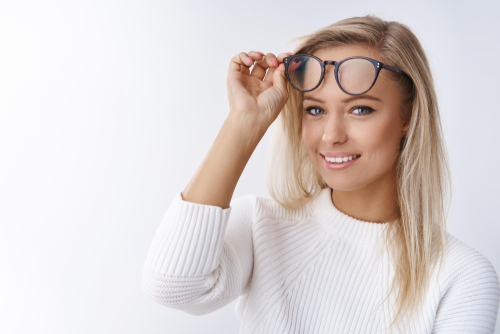 If you are near-sighted, far-sighted, and/or have astigmatism, you will likely have many pairs of glasses in your life.  You may need new glasses because your current pair broke, your prescription is out of date, or maybe you just want a new look.  The expert opticians at 1107 Optique will help make buying your next new pair of glasses a great experience!  Here are 5 tips to get started.
1.
Check Your Prescription and Your Eye Health
Getting new glasses can be a fun experience, but they have to help you see above all else. As you get older, your vision will change, which means your glasses prescription will need to change too.
If you haven't had your annual visit, call VisionPoint Eye Center to schedule an appointment with your eye doctor.  Regular eye exams will help you stay up to date with the prescription your eyes need. They also allow your eye doctor to check the health of your eyes to make sure there aren't any other underlying issues.
2.
Know Your Price
Glasses vary in cost – keep in mind you are purchasing a frame and lenses (unless you are updating your current frames with new lenses.) Setting financial parameters for yourself will help you find glasses you love without breaking the bank.
Insurance covers some glasses under certain vision plans. Be sure to check your benefits to see if you have one.
With over 2,000 frame options ranging in style from simple to sensational, you are guaranteed to find a frame to fit your personality and your budget at 1107 Optique.
3.
Invest in the Lenses
Trendy frame styles make a fashion statement and can define your style, but don't spend all of your budget on the frames – invest in the lenses! Anti-reflective lenses improve the aesthetic appearance of your glasses by diminishing the glare that blocks your eyes when others look at you. Many no-glare lenses also come with a scratch-resistant protection that makes them more durable and easier to clean. If you want exceptional clarity, brighter and more precise vision when wearing your glasses, high definition lenses are for you. These lenses make your vision crystal clear, like you're looking through a highly pixelated camera.
By adding the desired lenses to your favorite frames, our opticians can help create the perfect pair of glasses for your lifestyle and vision needs. 
4.
Research Brands
Not all frames are the same. Your ideal style is out there – let us help you find it!  1107 Optique carries more than 25 brands and has a variety of frames to choose from.  Our opticians will help you find your perfect brand, try new shapes and colors, and ultimately choose your perfect pair of glasses.    
If you want to check out some of the brands we carry before you come in to see us, click our page to do some research:  https://www.visionpointeye.com/1107-optique/brands-we-carry/
5.
Determine Your Face Type
There are no rules when it comes to fashion.  But, there are specific guidelines when it comes to what glasses will work with your face.  When it comes to glasses, you should consider frames that complement your face type. There are five basic face shapes that everyone falls into.
The Five Basic Face Types
Triangular faces are widest at the jaw and become narrower towards the top of the head. If you have a triangular face, look for thicker frames that are more detailed on top and wider than your face. These shapes will balance out your features.
Heart or diamond faces are widest at the forehead and become narrower towards the jaw. Frames thicker and more detailed on the bottom and wider than the face look good on you if you have a heart or diamond-shaped face.
Round faces have soft angles and slightly wider cheekbones with a broad forehead. Rectangular frames with angular lines that contrast with these facial features look great on you.
Rectangular faces feature angular lines with uniform cheekbone, forehead, and jaw width. Thin round frames look great on you if you have a rectangular face.
Oval faces have slightly wider cheekbones and a gradually narrowing jaw and forehead. A variety of frames fit oval faces. However, oversized frames may make for a bold and interesting choice.
Your glasses don't just have to be functional. They can define your style too!  Our friendly team of opticians specialize in matching you with the right lenses and frames for your medical needs, lifestyle and fashion preferences.  Schedule an appointment at VisionPoint Eye Center to keep your prescription up to date and find the right glasses for you at 1107 Optique!