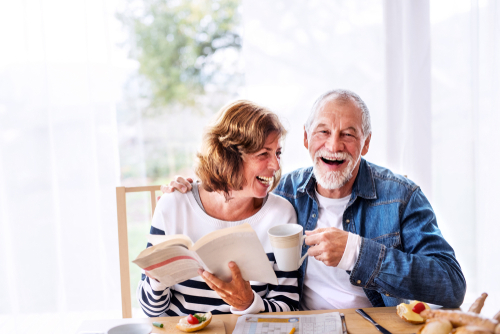 Having cataract surgery is the only way you can treat cataracts.  Laser cataract surgery uses a femtosecond laser to do many of the steps traditionally performed by hand.  It is designed to provide a greater level of precision and safety to modern cataract surgery.  The procedure only takes a few minutes for each eye, although you'll be at the outpatient surgery center for two to three hours on average.  If you have cataracts in both eyes, the second procedure will be scheduled a couple of weeks later.
What can I expect during laser cataract surgery?
During laser cataract surgery, your surgeon will numb your eye and insert a small instrument between your eyelids to keep you from blinking.  The laser is then used to create incisions, allowing your surgeon access to the inner lens.  The laser breaks your lens into smaller pieces to be gently suctioned away.
Because you need a lens to see clearly, you'll need your lens replaced with an artificial lens, known as an intraocular lens or IOL.  The IOL will provide you with clear vision after cataract surgery. Depending on which IOL you choose, you may even be able to reduce your dependency on the glasses and/or contacts you currently wear.  The IOL is placed where the natural lens once was.  Once the IOL has been placed, laser cataract surgery is complete!
What's it like recovering after laser cataract surgery?
As long as you follow your eye doctor's instructions, you will likely be able to return to your normal activities within a day or two. Although you may experience some very mild soreness or discomfort initially, it should not be a painful experience overall.
You will be instructed to go home and relax for the rest of the day after your procedure.  The best thing you can do is rest as soon as you can and as much as you need to, as sleep is essential to recovery.
Do not plan on driving for the rest of the day after you have laser cataract surgery. It is unsafe to operate a vehicle, as your vision will be affected, and you may be drowsy.  A driver is also needed for your appointment the following day.
You will need to avoid heavy lifting (more than 20 pounds) for a week after your procedure. You will also need to avoid eye makeup and swimming for two weeks (including hot tubs.)  Water can introduce infectious bacteria and germs, and your eye will be more prone to infection while recovering.
After a week or two, you should be back to your regular routine. You will still need to be vigilant to protect your eyes.  Wear protective eyewear when needed and wear sunglasses while outside.  Do not rub your eyes at any point during the recovery. If your eyes are uncomfortable, you can use the eye drops recommended by your doctor.
Full recovery can take a few weeks, but it depends on the patient. The length and difficulty of your recovery depend on your body's natural ability to heal.
A leader in Laser Cataract Surgery
Cataract removal is one of the most frequently performed surgeries today.  Laser cataract surgery is an even safer and more precise procedure than traditional cataract removal.  Recovery is generally easier and overall success rates are very high.  VisionPoint Eye Center is a leader in laser cataract surgery with three board-certified surgeons.
Concerned you may have cataracts? Schedule a dilated eye exam at VisionPoint Eye Center in Bloomington IL, today!